Nigerian crossdresser James Brown explains why he chose to be a gender bender.
Nigerian Cross dresser James Brown,had shared a photo of himself on his Instagram handle and he was actually good looking as a man but,he revealed that, being a man hasn't been helping him.
In life, there are some persons born with a silver spoon (Born into wealthy families) and then the ones that are not but, worked their way to become successful in life. These ones who worked hard to attain greatness are called the ones without silver spoon, they are the ones who had a tough life at the beginning but, determination and focus pushed them to greater heights.
This is the case with James Brown.
He had shared a photo of himself back when he used to dress as a man. The photo was indeed good looking and fans couldn't help but, admire him.
Reacting to the photo, a fan of his had taken to the comment section of the post, to appeal to the crossdresser to leave crossdressing and be a man, because he looks better as a man. These words touched James Brown so,he replied the fan.
Anyone who follow celebrities will know that most of them do not reply questions and the few ones that do, reply fans once in a while. So, for James Brown to reply to the comment just few minutes after the fan appealed to him,It means he had thought long about his career and wanted to clear the air.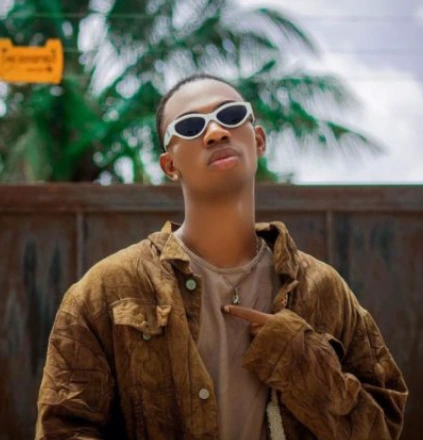 James in his response, said that, he knows he is handsome, but being a man doesn't pay his bills, and that's why he has chosen to act like a woman. In this way,he won't be called be penniless or broke. He observed that,men find it hard to get reasonable amount of money while, the women just showcase themselves and Money rolls in. So,he made up his mind to act like one so as to have enough money to take care of himself.
He wrote;
"I know I'm handsome but it doesn't pay the bills. Being a lady pays all my bills. I don't want to be cute and broke", James Brown said.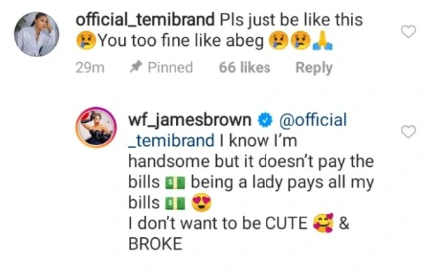 This is the situation with James Brown. There are so many other people who have put their hands in some things that they shouldn't have just because of the money. But, James Brown had come clean about his own. What about you?
What are those things you engage in for money that, you know you didn't really like at first?.
Drop them in the comment section