People criticised me for wedding bedridden husband, but I don't care – Wife of Benue electrocuted electrician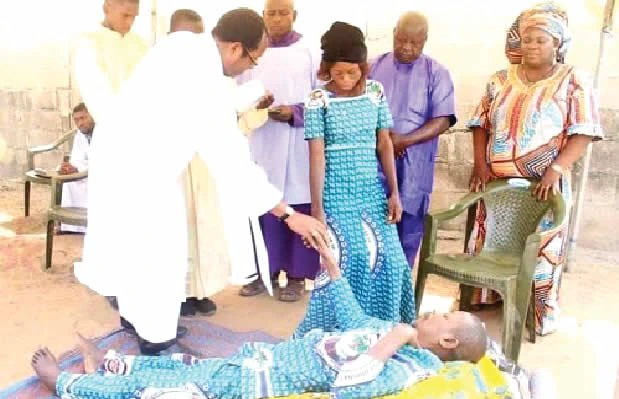 Twenty-six-year-old Christianah Terkinbir, who was joined in marriage with her bedridden husband, Benjamin Terkimbir, in December, tells JOHN CHARLES what informed her decision
What is your name and what do you do for a living?
My name is Christiana Terkinbir. I am a housewife; I have no job for now.
How old are you?
I am 26 years old.
You got married to your husband in December despite that he was bedridden. What was the motivation for you to get married despite his condition?
READ ALSO "My own side of the story": Mason Greenwood's 18 year old girlfriend and accuser speaks for the first time since making rape and assault accusations against the footballer.
Actually, we had been living together as husband and wife before the accident that rendered him bedridden happened. Already we have three children. The accident happened in March, 2021. We only solemnised our marriage in December.
Was there a pressing reason for you to solemnise your wedding at the time? Why didn't you wait till when your husband recovers from his sickness before solemnising the wedding?
It is because I love him and I know that he loves me too and he had been taking good care of me and the children. As I said, we have three children. We decided to solemnise the wedding despite his condition on the advice of one of our neighbours.
READ ALSO Discover Simple Tips On How To Look Perfect For An Upcoming Owambe Party With Attractive Gown Styles.
What is the nature of your husband's sickness?
He broke his back.
How did it happen?
It was last year, the community called him to help them fix the cable on the electric pole. I was told that when he climbed the pole, he got electrocuted and fell down from the pole.
Where were you at the time and who broke the news to you?
I was in our house when one of our neighbours came to tell me that something had happened to my husband at the transformer. Initially, I didn't understand what the woman was saying until another neighbour came to explain to me that my husband was working on the electric pole at the transformer and he got electrocuted and fell down. It was then that I rushed to the place and saw many people attending to him and they took him to the Federal Medical Centre, Makurdi.
READ ALSO 'Nobody ugly, na money never dey' – 10 astonishing celebrity throwbacks and their present look
What were you told at the hospital?
Initially they said that they didn't know what exactly the problem was and asked us to go to Abuja for a test. It was after the result came out that they said he has problem with his spine.
The picture of your wedding, showing you being joined with your husband on his sickbed, went viral on the Internet. What kind of reactions did you get from people who know you?
Some people queried why I decided to have the wedding but I am not bothered because I love my husband.
When and how did you meet your husband?
We met in Gboko, though I am from Ushongo Local Government Area (Benue State). It was when I visited my sister living in Gboko that I met him. I cannot remember the exact time we met but it was during the administration of former governor Gabriel Suswam (between 2007 and 2015). At the time we met, he owned a grinding machine and operated it on a commercial basis. He was based in Makurdi. He later learnt electrical work.
What kind of help has he received since the accident happened?
Someone, who lives abroad and pleaded to be anonymous, has decided to give him (financial) support and that is why he has gone to a hospital in Abuja for treatment.
Before then, it was the community that contributed money for the diagnostic test conducted in Abuja. And afterwards, people have been helping us in one way or the other. Our neighbours, most of whom are civil servants or pensioners, have also been of great help; they give us money and foodstuffs.
What about your children's education?
They were going to school before, but now they have stopped going to school because there is no money to pay their school fees.
Did the doctors give you hope that your husband will walk again?
Well, they (doctors) said they would try their best; they said in the worst scenario, he would be able to get up from the bed and use a wheelchair. He was completely bedridden when we took him to the hospital but the doctors said after the procedure they plan to do, he might be able to sit up and use a wheelchair.
What is your appeal?
Let me first appreciate the person God is using to care for my husband in Abuja, I pray that God will bless the person and replenish her purse. I appeal to the and other good-spirited individuals to help us, especially in the area of feeding and education of our three children. As I said earlier, the children have stopped going to school because we could not afford the N5,000 school fee of each of them