If you ever reject a guy because he's broke, don't move to him when he becomes rich – Lady tells fellow women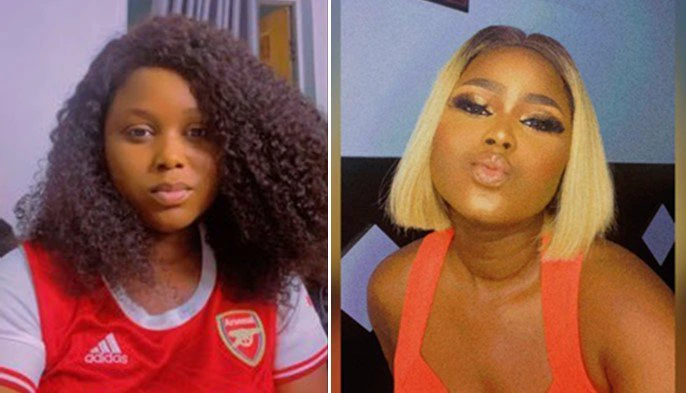 A Nigerian lady has taken to social media to address women who are fond of rejecting admirers and suitors because they are poor
The young woman in a post via her Twitter handle @Tbillion40 told said that if lady rejects a man or leaves him due to his broke status, she should not start seeking to associate with him when he eventually becomes rich.
She said that any lady in such a position should have the dignity to accept her initial decision and move on despite the change in the man's financial status
"Ladies pls if you ever reject/left a guy because he's broke, do yourself a Favour don't start hovering around him when he's rich.
Just take your L and move on," she tweeted.
See the post below: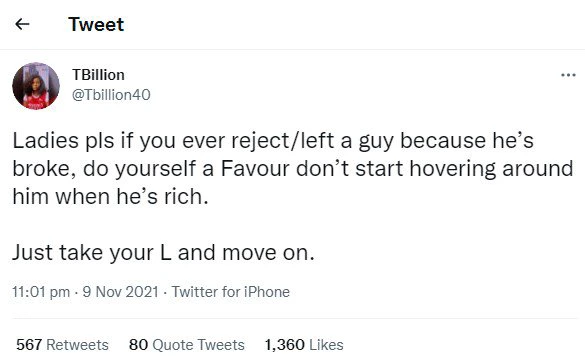 Social media users flooded her comment section and shared some stories relating to the post.
@NnekaNorman said; Anyways have this Neighbour that will be getting married to the same girl that refused him when he was broke.. He travelled out, made it over there, came back and asked the girl for marriage and she agreed Grinning face with smiling eyes.. They will be getting married next week Sunday. Guess it's genuine love
@deeorla; One of my exes wanted to try this with me thinking I left him coz he was broke.. Omo me I tricked him and dealt with him o…showed him wasn't about his brokenness but him!
@Warepamorsammy; They'll come back with 'don't you know when a girl is naive?'
@DominicNdugirl; Yes o if can't bear the heat leave the kitchen and don't look back when the food is ready
@jo_flexy; I was expecting to hear do yourself a favour go and make your own money. Cos clearly moving on meaning unto the next guy
@iAm_Timmy24; One aunty like that no go hear this one o, na when Omo boy don get small change for pocket dem wan come back come send am go Abule kowonleru
@DaWhyteWolf; Thing is if I curved a guy, it'll never be because he was broke. But if a guy I curved who was broke later becomes rich, it still won't matter at all, Cos one, the reason I curved him wasn't his money and two, I'm not going to be broke myself. This for ladies who depend on men.